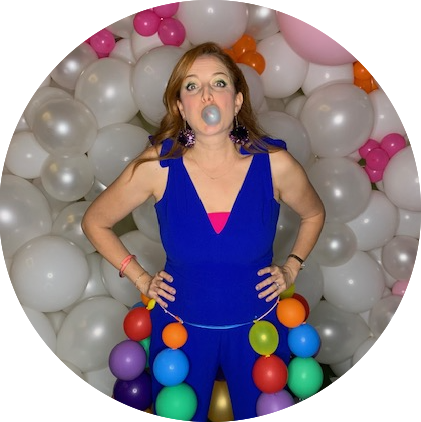 Join Laila's Birthday Society
Sustain birthday JOY throughout the year!
Will you join Laila's Birthday Society and fund birthdays for a year?
In honor of our founder, Laila Scott, we have launched a unique funding group to cement the vision Laila had in 2014 to spread joy to children in foster care. Please join Laila and become a founding member of Laila's Birthday Society and lead Pop-Up Birthday into a new phase of growth—all while providing the gift of birthdays, normalcy and a path to healing through joy.
By joining as a Founding Member, your gift will
ensure that we are able to say YES to every birthday wish!
Our thank you gifts to Birthday Society members:
Birthday Society thank you reception
Special recognition at annual gala and on website
Cool yard sign
Pop-Up Birthday swag
Your $1000 donation ($84/ month) will sponsor a child's birthday wish each month
Does your employer match?
Matching funds can be used for your Birthday Society donation.
Laila's Birthday Society Members
Gala 2023
Adrienne Alexander
Teresa Andresen
Elizabeth Aronson
Katie Bombra
Jessica Bruehl
Hilary Cabiness
Michelle Cheng
Heather Cuevas
Alison Davidson
Karol DeGroot
Dave Dell'Osso
Tera Ferguson
Rebecca Gindele
Andrew Grabato
Josh Gravenor
Julie Hall
John Haralson
Courtney Harvey
John Hay
Suzanne Jacobs
Stephanie Jastrow
Jody Kane
Cynthia Keas
Russ Kriengel
Stephanie Lang
Troy Logan
Brie Marek
Tim Marwill
Ray Eve Michel
Caroline Moon
Holly Noel
Eladio Prado
Jennifer Ramberg
Mari Robinson
Jessica Sandate
Debbie Schneider
Jordan Scott
Lindsay Traff
Ryan VanPelt
Gabrielle Wertheimer
Adrienne Alexander
Teresa Andresen
Elizabeth Aronson
Katie Bombra
Jessica Bruehl
Hilary Cabiness
Michelle Cheng
Heather Cuevas
Alison Davidson
Karol DeGroot
Dave Dell'Osso
Tera Ferguson
Rebecca Gindele
Andrew Grabato
Josh Gravenor
Julie Hall
John Haralson
Courtney Harvey
John Hay
Suzanne Jacobs
Stephanie Jastrow
Jody Kane
Cynthia Keas
Russ Kriengel
Stephanie Lang
Troy Logan
Brie Marek
Tim Marwill
Ray Eve Michel
Caroline Moon
Holly Noel
Eladio Prado
Jennifer Ramberg
Mari Robinson
Jessica Sandate
Debbie Schneider
Jordan Scott
Lindsay Traff
Ryan VanPelt
Gabrielle Wertheimer
Jenny & Brandon Aghamalian
Hope Albu
Teri & Matt Andresen
Elizabeth & Dan Aronson
Leslie Barefoot-Locraft
Chris Bielss
Lynn Bonsky
Maggie Broglio
Suzanne Brown
Jason Campos
Elisabeth Carrell
Berenice Craig
Kate Dell'Osso
Sunshine Donaghey
Tera Ferguson & Doug Rivera
Ivy Ford
Jacquelyn & Jay Forrest
Rebecca Gindele
Gladiator Consulting
Jennifer Gravenor
Pat Higuchi
Kathy & Jim Hopke
Ellen & Colby Jarrett
Kathleen Jennings
Jody & Branon Kane
Micaiah Larney
Jason Lawit
Jaime Lucio
Bunny & Tom Michel
Sheri & David Miller
Caroline & David Moon
Mandy Myers
Holly & Caleb Noel
Nadine Orrell
Shannon Owen
Amanda & Alex Pettitt
Holly & Kevin Priestner
Yvette Rios
Mari Robinson & Greg Ritzen
Babs & Jay Rosenfeld
Roger Sandau
Kat Courson & Dane Sauer
Laila & Jordan Scott
Catherine & Shaesby Scott
Brandie Sellers
Diane Severson
Natalie & Ian Smith
Allison & David Solin
Erin Stewart
Maggie Suter
Sally Sykes
John B. & Ethel Templeton Fund
Adriana & Sergio Trejos
Debbie Weems
Jennifer & Robert Wooten
Roy Wung & Zane Collins
Jenny & Brandon Aghamalian
Hope Albu
Teri & Matt Andresen
Elizabeth & Dan Aronson
Leslie Barefoot-Locraft
Chris Bielss
Lynn Bonsky
Maggie Broglio
Suzanne Brown
Jason Campos
Elisabeth Carrell
Berenice Craig
Kate Dell'Osso
Sunshine Donaghey
Tera Ferguson & Doug Rivera
Ivy Ford
Jacquelyn & Jay Forrest
Rebecca Gindele
Gladiator Consulting
Jennifer Gravenor
Pat Higuchi
Kathy & Jim Hopke
Ellen & Colby Jarrett
Kathleen Jennings
Jody & Branon Kane
Micaiah Larney
Jason Lawit
Jaime Lucio
Bunny & Tom Michel
Sheri & David Miller
Caroline & David Moon
Mandy Myers
Holly & Caleb Noel
Nadine Orrell
Shannon Owen
Amanda & Alex Pettitt
Holly & Kevin Priestner
Yvette Rios
Mari Robinson & Greg Ritzen
Mr. & Mrs. Nelson Rusche Foundation
Roger Sandau
Kat Courson & Dane Sauer
Laila & Jordan Scott
Catherine & Shaesby Scott
Brandie Sellers
Diane Severson
Natalie & Ian Smith
Allison & David Solin
Erin Stewart
Maggie Suter
Sally Sykes
John B. & Ethel Templeton Fund
Adriana & Sergio Trejos
Debbie Weems
Jennifer & Robert Wooten
Roy Wung & Zane Collins